Registering a company in the Netherlands
Registering a company in the Netherlands is now more convenient than ever. The exact amount of time it takes to form a company abroad also depends on the country you want to establish your company in. Most entrepreneurs don't even consider registering a Netherlands company, but they might be missing out on new opportunities. And having a company incorporation agent to assist you will definitely make the step easier. But with so many countries in the world, where will it be best for your firm?

Did you know, for example, that there are huge differences in tax rates in most European countries? There are also some countries that offer quite extensive tax deduction possibilities and the Netherlands is one of those countries.

If you are looking for a stable, competitive, international and prospering environment; then Holland is definitely the place to start your new company. With many well-developed sectors to choose from, a pool of bilingual (Dutch and English), specialized employees and many business opportunities nationally as well as internationally, you are ready to go once your business is set up. And we can take care of this whole process for you in just a few business days. How? Read on for tips and information about company registration Netherlands.
You can learn a lot from the Dutch
The Dutch are very successful in many different sectors. Due to constant innovation and the will to propel themselves forward in various business areas, you can count on some healthy competition and interesting investment opportunities. Especially the creative sector, the health industry, logistics sector, the agricultural sector and e-commerce have been high on the world's list of most advanced sectors.

Holland keeps being ranked amongst the top 5 most competitive and stable countries for business registration, so rest assured your Dutch business will attract all the possible opportunities to grow and become prosperous.
Characteristics of the Netherlands as a business opportunity
Next to innovative sectors and a multitude of different business options, Holland has much more to offer. Some highlights:
When you form a company in the Netherlands, you are also joining the European Union. This might prove to be beneficial for various reasons; currently a lot of Brits might have a good shot of continuing their business by opening a branch office in the Netherlands to stay within the borders of the EU
Being in the EU, you profit form the European Single Market. This means you can freely export and import goods and services in the entire zone
The Dutch workforce is highly skilled and mostly bilingual, making it very easy for you to find the best employees for your business
The Dutch are one of the largest economies in the world, whilst being one of the smallest countries at the same time. You will have access to a highly developed and huge worldwide infrastructure, with the port of Rotterdam and Schiphol airport at your disposal
The total costs for registering a company in the Netherlands are very low compared to other (neighboring) countries
The Netherlands has a large amount of skilled and knowledgeable freelancers, which you can easily hire via various freelance initiatives or platforms
The various business types in the Netherlands
Once you know if you need a permit and which one, you can research your options further by exploring all the various business types in the Netherlands. There is a large amount of legal entities to choose from, depending on the size of your business and your specific plans. You can choose from unincorporated and incorporated business structures. If you choose an unincorporated structure, you need to keep in mind that you will personally be held accountable for any debts your company makes. This is why most entrepreneurs choose an incorporated business structure; in order to limit the amount of personal risk. Nonetheless, we have summarized all business types so you can do some research before picking a certain legal entity.
1. Types of unincorporated business structures:
Eenmanszaak
Sole trader/single person business
Vennootschap onder firma or VOF
Commanditaire vennootschap or CV
2. Types of incorporated business structures:
Besloten vennootschap or BV
Private limited company (ltd. and Inc.)
Coöperatie en onderlinge waarborgmaatschappij
Naamloze vennootschap or NV
Dutch incorporated business structures types explained
As you can see in the summary above, there are a total of 5 different incorporated business structures. We will not elaborate further on the unincorporated company structures, as we have seen from experience that most foreign investors and start-ups tend towards choosing a Dutch BV or another incorporated structure due to the limited personal liability involved. This is by far the safest option to choose, though you can read some detailed information about four other legal entities below as well.
The Dutch BV: The Dutch version of a private limited company is the most chosen business type by foreign entrepreneurs. In the past, you needed 18.000 euro to even register a Dutch BV. Nowadays the criteria are more forgiving, since you only need 1 euro to form a Dutch 'flex-BV'. By lowering the minimum share capital necessary to start a Dutch BV, the country opened up many possibilities for smaller firms and businesses. If you start a Dutch BV, you can have corporate shareholders and directors. Please keep in mind that all corporate shareholders need to be verified during the process of the registering company Netherlands. They also need to have the appropriate authority to sign the deed of formation. It is also an idea to register a branch office as a Dutch BV, especially for companies that are experiencing difficulties in their native country. For instance Brexit weighs heavily on many English corporations and businesses. As such, many English businesses have already opened a branch office in the Netherlands.
The Dutch NV: Next to a private limited company, you can also choose to register a public liability company in the Netherlands. The Dutch NV is most suitable for large corporations and businesses, although you need to take into account that you will need a minimum share capital of 45.000 euro in order to start an NV. A Dutch NV also has a board of directors, who can be appointed during the annual meeting of shareholders.
The Dutch Foundation: You can also choose to start a Dutch foundation, which you can use as a holding or commercial entity or for family funds. Foundations can own shares as well as real estate in the Netherlands, plus you are allowed to obtain profits too. Under very strict and severe conditions, you can be exempt from taxes whilst owning a Dutch foundation. If you would like to know more about the possibilities, we can always provide you with general advice.
The Dutch General partnership: If you want to start a company with colleagues or other entrepreneurs, a general partnership might be an option for you. This business type is specifically for partners who use a single company name to obtain a common goal. This business type, however, comes with private liability like all unincorporated business types. So if you want to stay safe personally, a BV might prove to be a much better choice.
The Dutch Professional Partnership: The last option is the so-called professional partnership. This is a business type specifically for self-employed professionals or freelancers, like consultants, accountants, therapists and comparable professions. In this case you will also be privately held accountable if you make any debts with the business. So the only three business types that are exempt from personal liability are a Dutch BV, NV and foundation.
The step-by-step process of company registration Netherlands
Once you have chosen your preferred business type, it's basically time to start taking action towards company registration in the Netherlands. The good news is that you don't have to come all the way to the Netherlands to register your company: this is now also possible remotely. Some other necessary actions like opening a bank account can also be done from afar. The whole process can be done in little more than five business days. Of course, this is only achievable if we have all the required information and documentation. So please be very precise with the application forms and important documents like your business plan. The steps of the process of company registration in the Netherlands are as follows: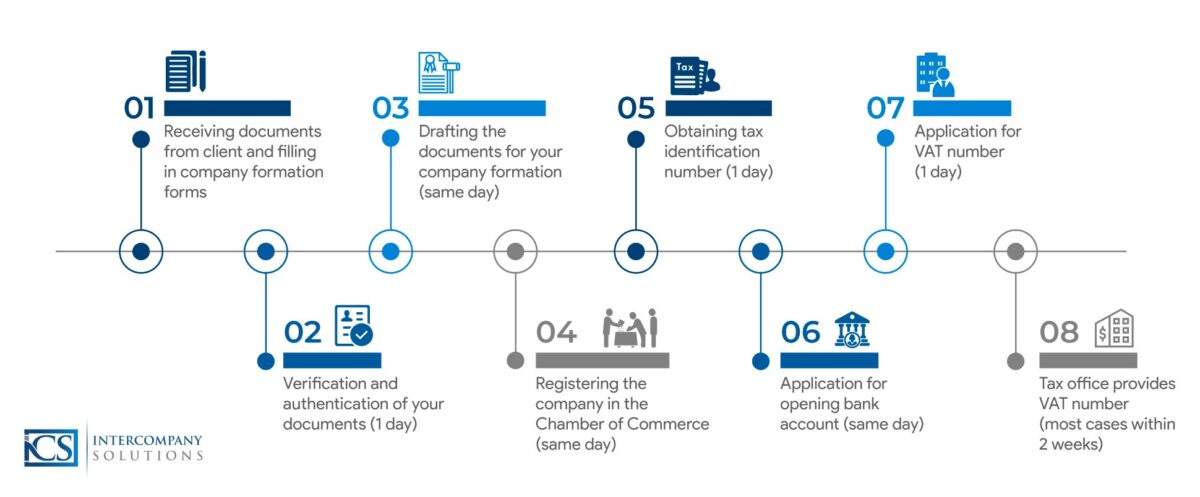 Practical information: required permits
If you are enthusiastic about the Netherlands, there are some details you will need to take care of first. Having all documentation ready is a necessity and this might include certain permits, depending on where you currently live. If you are an EU citizen, you can start a company immediately. As a non-EU citizen, you need a permit according to Dutch immigration law.
1. The start-up permit:
If you are interested in registering a business in the Netherlands and you are currently living outside of the EU zone, you will need a start-up permit. If you want to get this permit, your business and business idea need to contribute something to the Netherlands. This means providing proof that your business will be able to sustain itself, as well as showing that you are in a stable financial situation yourself. Also, you will need to find yourself a facilitator who will help you with various issues regarding the promotion and well-being of your business.
2. The self-employed permit:
Another permit is the self-employed permit. This is intended for people who want to move here with an already existing business or want to become self-employed in the Netherlands. If you want to acquire this permit, you will need to prove that your company will benefit the Dutch business market somehow. A good business plan as well as references and financial prospects from clients and investors will generally do well. You will need to get a certain amount of points before you are granted this permit. The point system does not apply, however, to both the United States as well as Japan.
How to apply for a permit?
As you will need to meet several criteria and conditions to obtain these permits, there is an agency in the Netherlands that will judge your application. The Netherlands Enterprise Agency (RVO) will score your business and determine whether you will be granted a permit. The scoring is subjected to certain factors, like your own experience and your goals for this specific company. The main goal is to achieve a win-win situation; so both the Dutch and your company can benefit from registering a company in Netherlands.
Intercompany Solutions
You will also receive a corporate extract, a VAT number and all other information that you will need. If you need further assistance at this point, for example to open a corresponding bank account or find a good accountant to take care of financial matters, we can help you with many other things. An accountant is necessary for your tax filings and also the annual statement of your BV, which needs to be published every year. Once this is all sorted, you are ready to go and can start doing business in the Netherlands.